Events
All in-person performances and events have been suspended through fall 2020. Learn More
Click on any of the events in the calendar for location, ticket prices, and program information.
School of Music students:  MUSI 300 credit events are marked with (*).
Mason Artist-in-Residence Third Coast Percussion: A Discussion on Entrepreneurship in the Arts
Presented By
Mason Arts at Home
When/Where
Tuesday, Nov 10, 2020 7:30pm
Virtual Event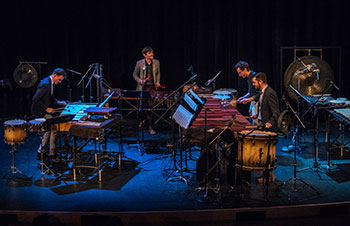 Join the Grammy ® Award-winning ensemble Third Coast Percussion for a livestreamed conversation exploring how the artist-run ensemble is managed and the unique ways they are innovating during the era of COVID-19. The ensemble, known for using traditional instruments like xylophones, marimbas, and vibraphones, along with unusual found objects including wooden planks and singing bowls, is continually expanding the extraordinary sonic possibilities of the percussion repertoire. During the discussion, they will delve into what drives their entrepreneurial spirit and how they are responding to and engaging in dialogues surrounding racial justice in America and representation in programming.  
As one of the 2020-2021 Virtual Mason Artist-in-Residence, Third Coast Percussion will be participating in a variety of activities to engage and inspire the diverse audiences served by the Center for the Arts. These residencies are designed to foster meaningful exchanges between our communities and the Artists-in-Residence, creating opportunities for transformational experiences in and out of the classroom—even digitally. 
The moderated conversation will be followed by live questions and answers with the audience tuning in. This event is planned in partnership with the Arts Management Program at George Mason University.  
This event will be streamed simultaneously on this webpage, Facebook and YouTube at the scheduled time. Additional details for how to watch may be updated here.  
To enable automated closed captioning for the Facebook video please navigate to the bottom right of the video pane and click the "CC" button. 
FREE 
Arts Management students are working under challenging circumstances and many are facing increased financial hardship due to COVID-19. A gift of any size in support of scholarships will help our students complete their education. Make a gift